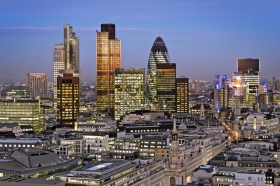 /top_stories/spotlight/43917/print
The UK has topped the annual global league table that measures and ranks the world's largest sustainable corporations.
The Global 100 is an extensive data-driven corporate sustainability assessment and inclusion is limited to a select group of the top 100 large-cap companies in the world.
Companies are selected based on their performance against 11 indicators covering environmental performance and corporate citizenship such as leadership diversity, greenhouse gas emissions and payment of corporate taxes.
The list includes companies from 22 countries encompassing all sectors of the economy, with collective annual sales in excess of $3.02 trillion, and 5,285,645 million employees.
Among the 22 countries, the United Kingdom led the way with 16 Global 100 companies, an increase of five from the year before. Japan followed with 11 (down from 19 in 2011).
France and the United States tied for third place with each claiming the headquarters of
eight Global 100 companies.
Rounding out the top ten scoring countries with at least three Global 100 companies were: Australia (seven), Canada (six), Germany (five) Switzerland (five), Denmark (four), Netherlands (four), Norway (four), Sweden (four), and Brazil (three). Sixty-eight per cent of the 2011 companies remained on the list in 2012.
The leading sustainable company in the UK was listed as BG Group plc (ranked sixth), followed by Centrica, BT Group and Logica.
Andy Green, CEO of Logica said, "Like all organisations, we're on a journey to ensure we are the most sustainable business we can be, but the significant improvement in our ranking in the Global 100 Most Sustainable Companies is an important milestone for us.
"Ethics and the environment are at the heart of our business and we firmly believe that only truly sustainable businesses will prosper in a time when public opinion and trust in business is at a low."
Toby Heaps, CEO of Corporate Knights, said: "in a year in which Wall Street was occupied and capitalism became a bad word, the Global 100 companies serve as ambassadors for a better, cleaner kind of capitalism which, it also turns out, is more profitable." From its inception on February 1, 2005, to December 31, 2011, the Global 100 Most Sustainable Corporations has achieved a total return of 41.70%, outperforming its benchmark, (the MSCI All Country World Index at 29.30%) by more than 11%.
The Global 100 was recently recognized for its industry-leading standard of transparency and objectivity by a meta-study of corporate sustainability rankings.
The number one ranked company in the Global 100 the world for 2012 was Novo Nordisk. The Danish pharmaceutical firm, which had revenues of DKK 60.7 billion (US$10.5 billion) in 2010, is on record that access to essential medicines is a human right, and sells human insulin (the most basic kind) to 33 of the world's poorest countries, at no more than 20 per cent of the average price in the western world.
Article continues: http://www.clickgreen.org.uk/analysis/business-analysis/123089-uk-tops-global-league-for-sustainable-corporations.html